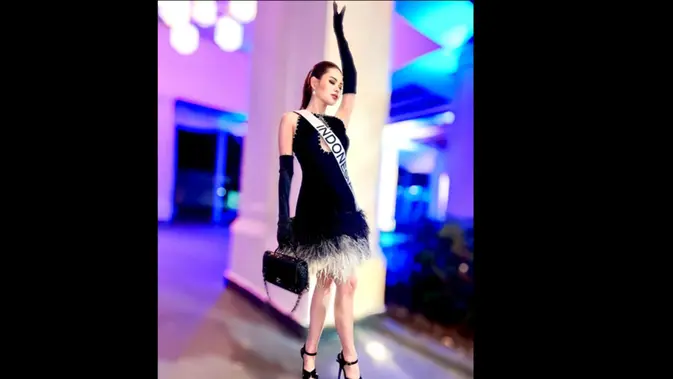 Pada hari pertama tiba di El Salvador, perempuan berusia 23 tahun tersebut terlihat mengenakan gaun strapless bernuansa emas rancangan desainer Indonesia, Yosep Sinudarsono. "Day 1 at @missuniverse – Having 'INDONESIA' across my chest once again feels surreal. (Hari ke-1 di @missuniverse – Melihat 'INDONESIA' di dadaku sekali lagi terasa tidak nyata)," tulisnya dalam unggahan pada Minggu, 5 November 2023.
"Indonesia, you are my home, and I promise to always do my utmost best.✨🇮🇩♥️Now, I want to hear from you, my lovely friends! How did you like my outfit today? 🙂 (Indonesia, kau adalah rumahku, dan aku berjanji akan selalu melakukan yang terbaik.✨🇮🇩♥️ Sekarang, saya ingin mendengar pendapat Anda, teman-teman terkasih! Anda menyukai pakaian saya hari ini? :))," lanjutnya.
Selanjutnya, Fabienne mengunggah potret bersama MUA dan hair stylist di acara yang menggunakan produk riasan dari Muba Cosmetics tersebut. Perempuan kelahiran 27 Desember 1999 itu menyebut hari pertama di kontes membuatnya sangat bersemangat.
"From registration to getting glam with the amazing MUBA team and the final dress fitting – it's been a day full of excitement and preparation. ✨❤️ (Dari pendaftaran hingga tampil glamor bersama tim MUBA yang luar biasa dan fitting pakaian terakhir – ini adalah hari yang penuh kegembiraan dan persiapan. ✨❤️)," tambah Miss Universe Indonesia 2023.